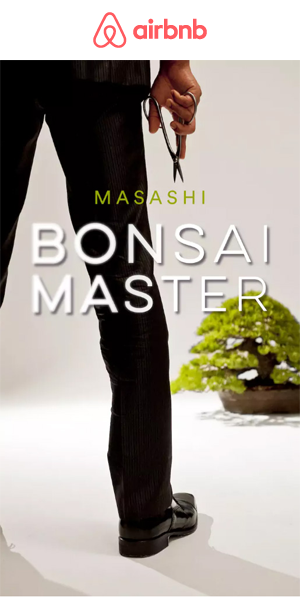 Setouchi Triennale 2016 Summer period
feel feel BONSAI

Setouchi Triennale 2016 Summer period
 Masashi Hirao × SEPPUKU PISTPOLS

---
---

It is a documentary scheduled for completion in 2014 [BONSAI WARRIOR]
Director Yo Umezaki/Producer Kaori Mayama
Masashi Hirao Profile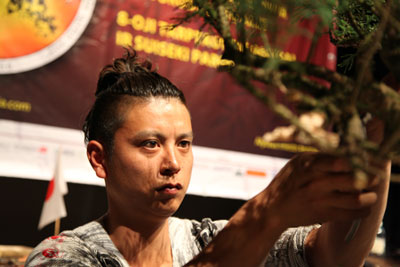 Bonsai master - Masashi Hirao
DOB: February 15th 1981
Having visited Mirei Shigemori'work-Hojo garden at Tofukuji while he was in Kyoto Sangyo University, Masashi was strongly impressed by the beauty of it. Since then he has had his sights on carrying on the Japanese culture and decided to be apprenticed to Kato Manseien in Bonsai cho, Saitama city, Japan. Masashi studied under Saburo Kato and his words to him "Be the one to spread out the great Japanese Bonsai not only in Japan but also overseas" made Masashi expanded the range of his activities.

Masashi performs Bonsai demonstrations, workshops and other performances in various countries and as a result of effort, he was chosen as a Japanese cultural envoy for 2013 and spent 4 months in 11 countries to teach people the beauty and joy of Bonsai. He had a great cultural exchange through Bonsai.

Masashi aims for finding more possibilities of Bonsai to have more gallery exhibitions and performances overseas. In Japan, he would like to have not only presentations of the Bonsai suitable for new life space but also have lectures and educate the young generation about Bonsai.

■ Bonsai demonstration
Having one Bonsai ready to prune(trim branches) and wire(to put wires around branches to make a tree strong) in front of the audience. Masashi's demonstration is for 2 to 4 hours to show the way of the Japanese Bonsai making and also the development of the further techniques.
■ Bonsai performances
Masashi does one Bonsai work at bars, clubs, or even on a street with a band or DJ for the people who are not familiar with Bonsai so they can get to know Bonsai with great enjoyment.
■ Bonsai Workshop
An activity of how to make and manage the Bonsai which Bonsai lovers brought. There are people from the beginners to the advanced so the workshop takes 2 to 3 hours at the shortest and 2 days at the longest. It is a Bonsai class to teach people how to be able to tell great trees from others and extract their potential beauty.
Background
2019

June :Andaz Tokyo 5th anniversary Bonsai performance

2019

May :Tokyo Midtown Hibiya SKTJ office Installation

2019

April :Setouchi Triennale exhibition "BONSAI deepening roots"

2018

December :The SG Club Shibuya Bonsai display and performance

2018

December :Daikanyama Tsutaya Apriln Bonsai display

2018

October :Saitama city sponsored "Wabi Sabi Festival" Bonsai performance

2018

July :The Echigo-Tsumari Art Triennial Bonsai exhibition and performance

2018

July :FUJI ROCK FESTIVAL '18 YouTube Artist Lounge design and Bonsai displ

2018

April :Tokyu Plaza Ginza Bonsai Installation and performance

2017

December :Nihonbashi Takashimaya New Year Bonsai Installation

2017

November :Olympics and Paralympics promotion investigation business event Bonsai performance in Shibuya Trunk hotel, sponsored by Foreign Ministry

2017

November :Sitama city sponsored "Wabi Sabi Festival" Bonsai performance

2017

September :Shinjuku Takashimaya "NIPPON mono gatari" Bonsai exhibition and performance

2017

August :European Capital of Culture Bonsai Performance in Aarhus, Denmark

2017

July :FUJI ROCK FESTIVAL'17 YouTube Artist Lounge Bonsai display

2017

June :Andaz Tokyo "Andaz Salon" Bonsai performance

2017

May :Osaka Takashimaya Bonsai exhibition and performan

2017

April :Street performances dedicated to World Bonsai Convention 2017 a Arche Omiya, Ginza shopping street and Hikawa Shrine

2017

February :Tokyo Zojoji temple Bonsai performance

2017

February :Documentary program "Bonsai meets the world" aired on Bhutan National Broadcast and Malaysia National Broadcast

2016

December :Nikkei Business "The Most Influential People for JAPAN 2017" selection

2016

October :Demonstration at Roppongi art night

2016

June :Donated bonsai to King of Bhutan

2016

April: Bonsai Nursery [Seisho-en] Open

2016

March: Bonsai Project at Setouchi International Art Festival

2016

January: Demonstration at Google [Cultural Institute]

2016

January: Demonstration at Omiya Takashimaya

2015

August: Appears on new balance for [beta people].

2015

May: Demonstration at Milano Expo 2015 in Italy.

2015

February to April: visited Italy, Spain, France, Germany, Holland, Slovakia, Turkey and Czech Republic for the activity of spreading out Bonsai in the world as a Japanese cultural envoy.

2015

January: Appears on TV Tokyo for the documentary program called "Crossroad". The program introduces one person each time who keeps challenging in their own fields.

2014

December: A Bonsai book supervised by Masashi Hirao was published.

2014

visited Italy, Germany, Holland, Slovakia, Lithuania and Latvia for the activity of spreading out Bonsai in the world as a Japanese cultural envoy.

2013

September: World Bonsai Competition in China

2013

May: Bonsai Asia Competition in Philippines

2012

Demonstration as the head of Oomiya Bonsai in France

2012

Demonstration as the head of Oomiya Bonsai in Holland

2012

Participated in Japan festival in Philippines

2011

Participated in Japan festival in Italy

2010

Bonsai demonstration in Argentina

2009

Acted as a Bonsai technical supervisor in Spain

2008

Completed a training and took up a post as a manager at Manseien

2003

Became Saburo Kato's pupil

2003

Graduated from Kyoto Sangyo University, majored in economics