Masashi Hirao goes around the world as a Japanese cultural envoy 2013!
Update:2013/06/01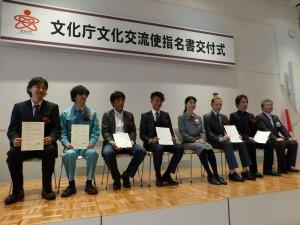 On May 22nd 2013, Japanese Agency for Cultural Affairs held a ceremony to issue a certificate to each Japanese cultural envoy.
Envoys go around the world to spread Japanese art and culture.
And this time, one of our Bonsai masters, Masashi Hirao has been chosen as one of them.
He goes to Philippines, Istanbul-Turkey, Lithuania, Italy, France, Holland, Germany, Australia, Mexico to promote Bonsai to the world from May to October of 2013.
The picture on the upper right shows the ceremony. Masashi Hirao is the 4th one from the left.
Masashi is giving a speech with passion.
His speech was "I did not know that Bonsai was recognized widely as an art in the world until I made my way into foreign countries.
I believe that my activities are to meet and talk with people in the world through Bonsai.
I am unfledged both as a Bonsai master and a cultural worker but I will do my best to give everybody the best result when this project is finished."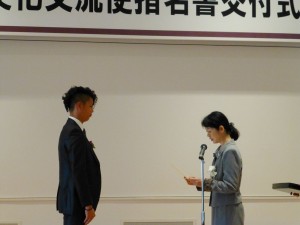 Masashi Receiving the certificate as an envoy.




His activities have just started so there will be more photos and reports on him, Bonsai and Bonsai lovers of the world.
We will keep you posted here on the Advance K&B Farms corporation Homepage.